AUCTION FOR A CAUSE
Rotaract Brussels Coudenberg International is organizing for the 2020-2021 year an Online Auction!
Running from March 21st until March 27th, 2021 the aim of the auction is to raise funds for two organizations working with children with disabilities in Belgium and Senegal. The wide range of auction items, whether physical products, services, or experiences, have been donated or sourced by our members. Bidding will open on Sunday, March 21st, for one week. Through our online auction platform participants will be able to have an interactive experience – receiving alerts if they have been outbid and seeing our progress towards our fundraising goal.
The auction period will conclude on Saturday, March 27th with a live, online event for the final hour to countdown and celebrate the winning bidders. Everyone is invited to the online event, whether a donor, bidder, or just a club supporter!
It is very important to not forget that this event is our main fundraising activity this year.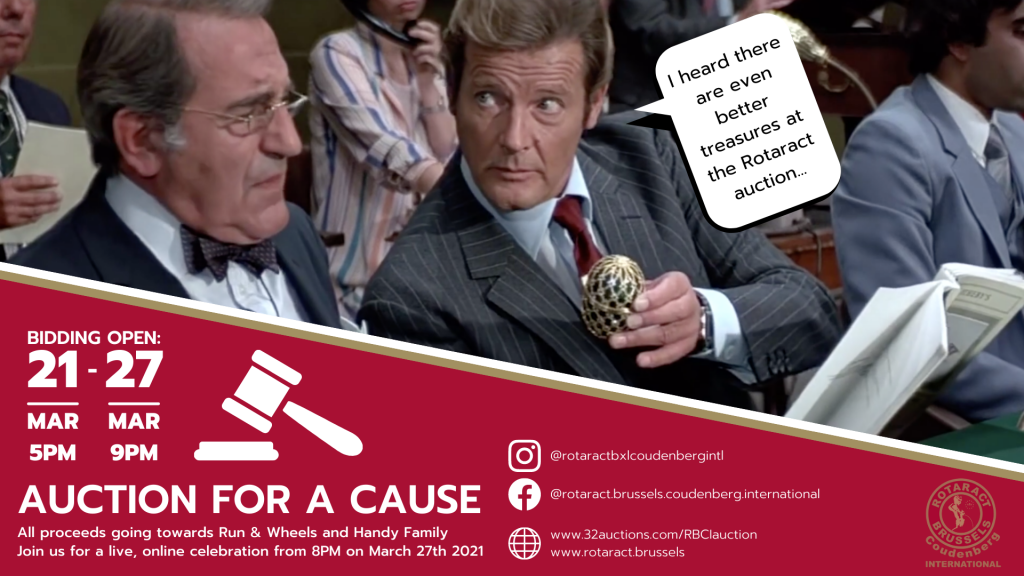 The two organizations we support with this auction:
Run and Wheels
Based in Brussels, Run and Wheels is a non-profit organization dedicated to promoting sports for those with physical disability. The importance of sport in physical, mental and social development is well established. For children with disabilities, physical fitness and challenging oneself is even more important. Unfortunately, there are too few adapted sport initiatives. Run and Wheels' main wish is the inclusion of people with reduced mobility in the world of leisure sport. Proceeds from the Online Auction will go towards funding the production of the JollyBumper by Run and Wheels. The JollyBumper is a financially accessible product, which corresponds to all types of wheelchairs and allows the practice of football. It is light and easily transportable to be able to play where and when you want. This innovative product allows the player to move, catch and direct the ball, make passes to teammates, and score goals!
Handy Family
The second organisation we would like to support is Handy Family, an organisation helping out disabled children and their parents in Guédiawaye Dakar, in the capital of Senegal. We discovered Handy Family through one of our Rotaract members who was living in Dakar. The organisation is founded and run by Anna, a bright lady who is disabled herself. She decided to turn her disability into her strength because of several reasons. Disabled persons in Senegal often face discrimination. Sometimes they are expulsed from their community. They receive little to no aid from the government. Many parents feel helpless since they don't receive any guidance on how to take care of their disabled child. The moment Anna realised this, was a turning point. Through her organisation, she gives concrete guidance to parents of disabled children, such as what kind of food the child can eat, how to feed the child, and what kind of exercises or stretching the parents can do with their child. Her goal is to make the life of disabled children and their parents bearable, cheerful and hopeful. Always smiling, she is running the organisation with few resources. We would help out a lot by offering some chairs, mattresses and a computer so she can continue helping the children and guiding the parents. The mattresses, for example, are used for the exercises Anna conducts with the children. Through this assistance, many children have developed remarkably and flourish once they are at the organisation.