The Rotaract Club of Brussels Coudenberg International is excited to announce our upcoming fundraising event: Auction for a Cause and its live event 'NIGHT AT THE OPERA' Live Gala.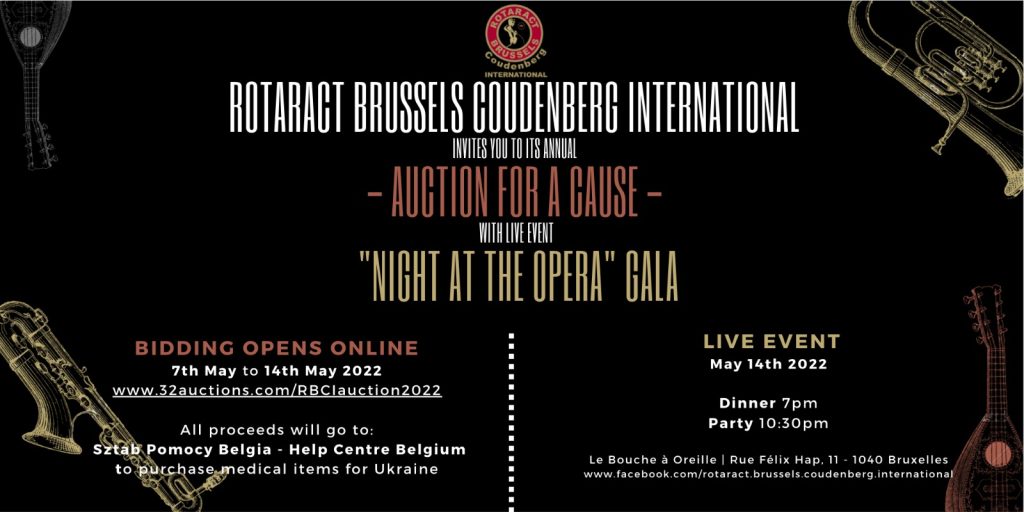 From Saturday, 7th May 17:00 CET until Saturday, 14th May 22:00 CET, we will be auctioning off a variety of items donated to the club from our members, our partners, and local businesses. Not only do we have items up for auction, but also services and experiences, there will be something for everybody.
You may find more details about the online auction here.
The auction week will finish off with a live event in the form of a gala party! The live event will take place on Saturday, 14th May at Le Bouche à Oreille Brussels, starting with a dinner from 19:00 CET and continuing with a party from 22:30 CET. The theme of the gala is 'Night at the Opera' and you may register for tickets for either the whole night (dinner + party), or just for the party.
Dress code for the party: Formal/Gala wear.
Tickets to the in-person event can be found here.
All the proceeds of the auction will go towards Sztab Pomocy Belgia (Help Centre Belgium) with whom we partnered in the context of the humanitarian crisis in Ukraine. We have raised over 4000€ so in order for them to purchase medical items at the wholesale price, which were transported to Lviv, Ukraine, through the humanitarian corridor. We wish to continue helping the association in the same context, and with the donations of the auction, they will purchase medical items for hospitals in Ukraine.
Want to become a sponsor for this event, or donate an item to the auction? You can submit an item for donation here, and reach out via Facebook or send us an email: brusselcoudenberg@gmail.com